That's God's Problem!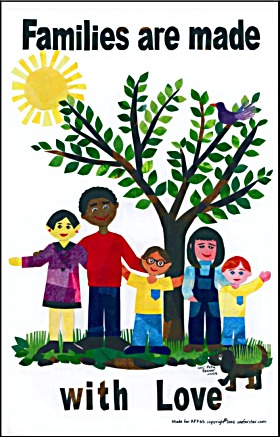 Adoption by the dozen: Couple parents 17 children
AIRFIELD TWP. — "Christmas can be very loud around here," said Scott Rosenow, looking at the crowd of Christmas stockings hanging from the fireplace mantel.
But that was far from a complaint.
Extras
Latest headlines
Adoption by the dozen: Couple parents 17 children
Not all workers take a holiday
Butler County offers ways to recycle e-waste
AK Steel scholarships deadline nears
Kwanzaa observance focuses on 7 principles
Get latest headlines via RSS feeds
Forgive him if he says that with a fair amount of pride and indescribable joy. Rosenow, 50, and his wife, Kathy, 48, have worked hard at creating a large and loving family, which in the last week has grown to 17 children with the finalization of three adoptions, plus a new son-in-law and a grandchild on the way.
The Rosenows have four biological children. Erin, their second, now 26, was born with severe learning disabilities and communication disorders, plus a damaged kidney and malformed bladder valves. Her first surgery was at age 3½.
The youngest, Ryan, now 18, was born without a right hand. Doctors at first told them there was nothing that could be done, but they met a team of surgeons in Louisville, Ky., who did the first of 25 surgeries when he was 10 months old. It was to get closer to these surgeons that the Rosenows moved from Alabama.
When Ryan was 2, Kathy heard a radio interview with Tim Burke, who gave up a $600,000 salary as a pitcher for the Cincinnati Reds so that he could help his wife, Christine, take care of the four special-needs children they adopted.
"Their story was fascinating, and we thought we could do that, too," Kathy said. "We had seen the bonding that had taken place between Ryan and Erin. They both were getting beat up by the world.
"Erin would come home from school crying because they were so hard on them, so we determined early on that our house would be a safe place for them. We taught them to treat each other with respect and we did not allow them to make fun of each other.
"When we started finding out about so many kids out there without a place to go, we started talking about adoption."
It wasn't easy for them, nor something they undertook right away. The cost of Erin's therapies and the various operations on her and Ryan had emptied the family's savings accounts, and adoptions — especially international adoptions — were very expensive.
Six years later, they heard about Nathan, a newborn who was abandoned outside an orphanage in Bolivia, so young that his umbilical cord was still attached.
"That's our son," Scott said. "We've got to get him out of there."
And when Kathy protested that they just couldn't afford it, Scott replied, "That's God's problem."
For four months they sent out letters and explained the situation to everyone they knew. They eventually borrowed $7,000 to get the rest of the money so they could go to Bolivia to get their son.
"While we were there, we were amazed at the poverty," Kathy said. "We'd never left the country before, and we realized that in America we have everything and they have almost nothing. We saw disabled people begging in the streets, and we realized that was the life Nathan would have been destined to have had we not gone down there to get him."
After they brought Nathan home, they'd watch him play with his brothers and sisters on the floor.
"Before long, we started thinking we could do one more, but it just kept going," Kathy said.
The family has or will, in the near future, adopt 13 children.
"We weren't trying to build a family," Scott said. "We were trying to save a child."
http://www.middletownjournal.com/hp/content/oh/story/news/local/2007/12/26/mj122607rosenowmain.html