Remembering Terri Schiavo: Terri Schiavo's family and Brownback for President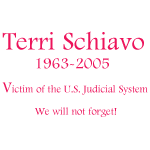 WASHINGTON - Republican presidential hopeful Sam Brownback is embarking on a campaign trip with the brother of the late Terri Schiavo, whose fate touched off a political firestorm over government intervention and end-of-life issues.
The Kansas senator is less well-known than leading GOP candidates for president, but he is a favorite of anti-abortion conservatives who influence Iowa's nominating caucuses. Brownback is calling the tour "Pro-Life, Whole-Life."
He is traveling this weekend in Iowa with Bobby Schindler, Schiavo's brother, and Francis Bok, an escaped slave from Sudan.
Schiavo, who was in a permanent vegetative state since 1990, died in 2005 after her feeding tube was removed by court order.
Her parents, Bob and Mary Schindler, fought her husband, Michael Schiavo, to keep him from cutting off artificial feeding so she could die, in a battle that reached beyond the courts to Congress and the White House. Many conservatives, including several lawmakers, backed the Schindlers.
Recently, Brownback has criticized rivals Mitt Romney and Tom Tancredo over abortion, assailing Romney for switching from pro-abortion rights to anti-abortion rights and targeting Tancredo for taking money from donors who also support Planned Parenthood.
"I have been pro-life my whole life," Brownback said. "Those have been consistent messages for me. I think elections are about ideas and choices, and we're laying those out for people."
___
ST. PAUL, Minn. (AP) — Minnesota Republicans have set Feb. 5 for their caucuses next year, joining voters in 17 other states in what is shaping up to be a national presidential primary.
The state GOP's executive committee voted late Tuesday to hold caucuses in which 41 GOP delegates are at stake four weeks earlier than previously, spokesman Mark Drake said. No further approval is needed, and state Secretary of State Mark Ritchie has said he doesn't have a problem with the date.
Minnesota Democrats are poised to move their caucuses up, too. The party's executive committee has already recommended the move, but an official vote won't happen until a party meeting in late September.
"We're a battleground state and we think it's important that Minnesotans — Democrats and Republicans alike — have their voices heard early in the process," Drake said. "We didn't want to get left behind."
Iowa kicks off the presidential winnowing process on Jan. 14. Thus far, at least 18 states, including Minnesota, have set Feb. 5 for presidential primaries or caucuses, including California, New York and Illinois.
___
http://news.yahoo.com/s/ap/20070711/ap_on_el_pr/on_the2008_trail_25
Honour Terri's memory by voting for the most pro-life candidate!